July 24, 2023, Shinhan Vietnam Finance Company Limited (Shinhan Finance) and Yamaha Motor Vietnam Co., Ltd (Yamaha Motor Vietnam) signed a strategic cooperation agreement to deploy installment consumer loan products at the system of 417 Yamaha stores and dealers nationwide. This ceremony was attended by Mr. Oh Taejoon - General Director of Shinhan Finance, Mr. Vo Tran Huy - National Sales Director of Yamaha Motor Vietnam and key representatives and leaders of two companies.
This signing ceremony is the next step in the comprehensive cooperation strategy between Shinhan Finance and Yamaha Motor Vietnam. Previously, two companies had successfully implemented cooperation at 5 official stores of the Yamaha in 2021.
Sharing about the expectations when expanding with Yamaha Motor Vietnam, Mr. Oh Taejoon, General Director of Shinhan Finance said: "Vietnam's economy is on the rebound after the Covid-19, but now it is being slowed down due to the impact of the global economic context. The purchasing power of the country has decreased, the incomes and lives of many people are being affected. As a Consumer Finance Company from Korea, Shinhan Finance always wishes to join hands with the Government of Vietnam, together with associations, organizations, and businesses to contribute to "reviving" the domestic economy, "energizing" for people through the provision of appropriate financial products and solutions. And Shinhan Finance is very pleased to cooperate with Yamaha Motor Vietnam to deploy installment consumer loan products to customers throughout nationwide. It is believed that this cooperation will help customers, especially those who need buying motorbikes, to easily own their own car. Therefore, Shinhan Finance hopes to contribute to making the lives of customers and their families better."
Mr. Vo Tran Huy - National Sales General Manager National of Yamaha Vietnam shared: "We understand that Shinhan Finance is a leading financial company from Korea and Shinhan Finance has ambitious plans to participate in economic development in the Vietnamese market. Therefore, I believe that the extensive cooperation between Shinhan Vietnam Finance and Yamaha Motor Vietnam Companies will be the highlight of providing customers with financial support and new experiences in their buying journey".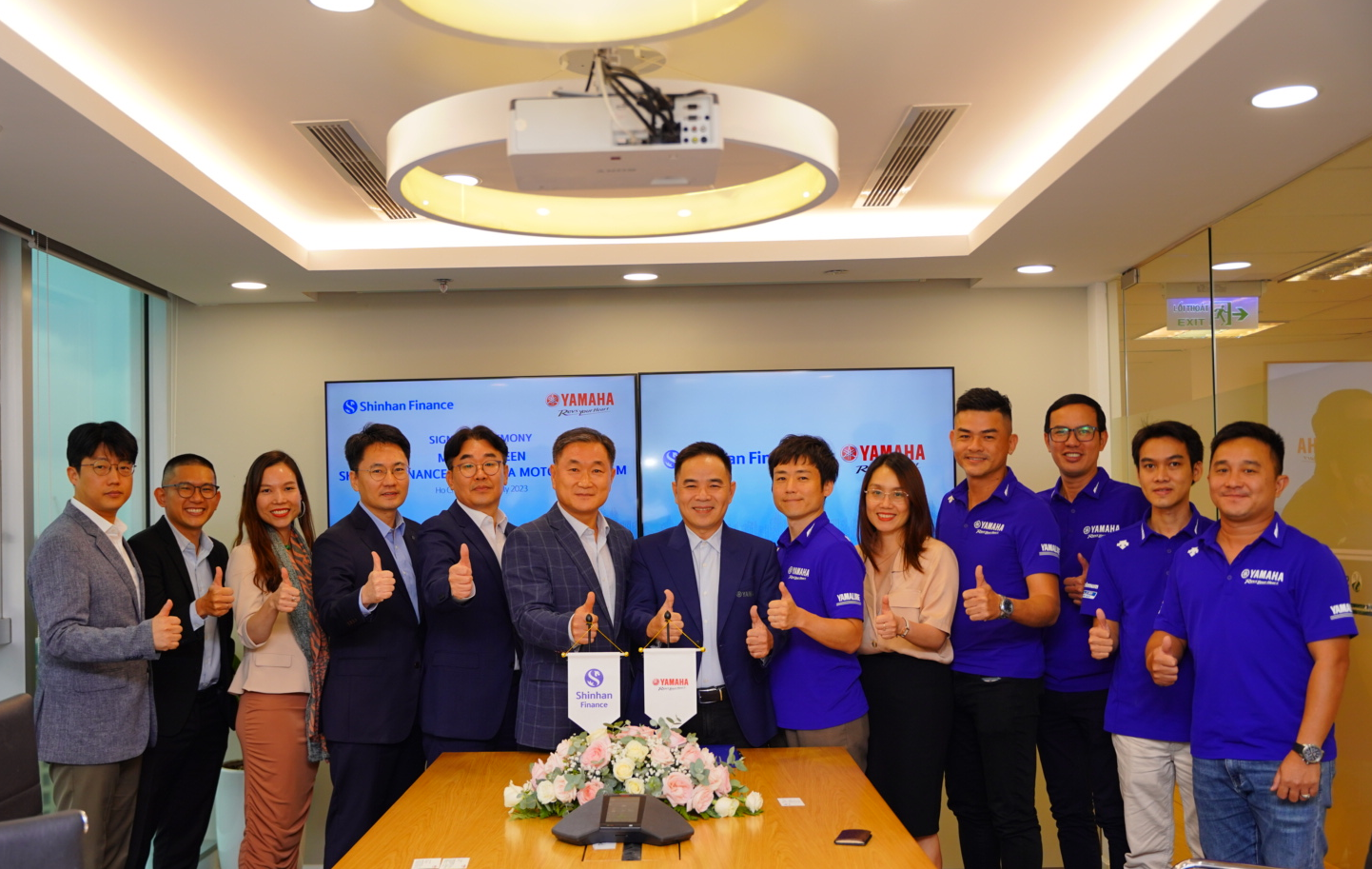 In addition to the deployment of installment consumer loan products at the system of Yamaha dealers, two companies will also offer incentives with 2 support packages including: 0% interest rate support package (applicable to Exciter 155) and an interest rate support package of 1.49%/month (applicable to Grande, Freego, Janus) for customers buying motorbike loans at independent dealers of Yamaha Vietnam. With these two special support packages, customers only need to pay a small amount in advance from 20% of the car value, the rest can borrow at preferential interest rates from Shinhan Finance with flexible loan terms 9,12,15,18 month.
In addition, at August and September 2023, Shinhan Finance and Yamaha Motor Vietnam will continue to bring new incentive programs for consumer borrowers at Shinhan Finance to buy Yamaha products at major retailers. national independence.
Details about Shinhan Finance's promotion programs for customers here.